Best Practices for Insurance Providers​
Published on juillet 30, 2020
Have you factored ?Muzak? in your customer service offering?
Well, if your agents are consistently putting your customers on hold to retrieve profiles over a few different systems and platforms, you should! It is well known that companies are using various strategies to attract, service and retain customers, so ambiance might be a relevant business entry in your CapEx budget.
It's (unfortunately) a common scenario for your agents: they take calls, welcome customers, assess their needs, place them on hold to locate customer files, review insurance profiles, pull up history statements, and toggle between systems to gather an overview of a customer's insurance needs. Customers are used to it; everyone does it. But what if your agents could pull a complete customer profile up on their screen as they greet a customer?
Delivering reassuring insurance services
In an old-world insurance landscape or a more modern portal-driven, friendly online-quote environment, how would a timely, smart, and knowledgeable agent response influence your customers' behavior? Positively, for starters. And most likely exponentially, if your customers get a hospitality-type treatment when they call, and no longer have to state their policy numbers 3 times before getting anything done.
Speaking with a well-trained and properly-equipped agent who understands the breadth of the situation is like winning half the battle within the first few minutes. A powerful customer relationship management (CRM) tool can do just that. Imagine having a unique platform to corral all your existing customer files, sales, and operations databases and provide you and your business with a comprehensive view of the entire customer journey.
Leveraging your existing systems with Creatio's intuitive and user-friendly technology
Creatio (formerly bpm'online) is an insurance provider's dream technology: it delivers a 360° view of your customer profiles by integrating existing systems formats and outputs in one single platform and interface. It allows for the automation of numerous underwriting and claims management processes to streamline your agents' tasking and increase customer satisfaction.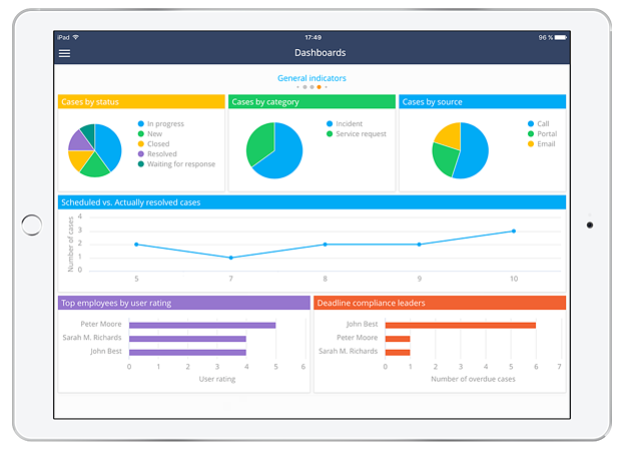 How, you ask? Easy breezy with the right technology. Creatio endeavoured to automate business ideas in minutes to accelerate sales, marketing and service programs. They set out to analyze and understand the insurance industry's standards, requirements, and challenges to develop a robust platform with extensive integration capabilities (.Net tools, REST, SOAP, OData, open API). Using data from various operational systems, such as sales, underwriting, claims and case management, and marketing, the Creatio platform enables your customer service team to meet their KPIs through omnichannel support. Yes: omnichannel. Sounds good, right?
Implementing new technology without putting everything on hold
Integrating Creatio with your existing back-end systems can be done within a year. That's a few years ahead of a typical CapEx-heavy technology changeover to remain competitive and relevant in today's constantly evolving marketplace. Not only that, the native Creatio Web single sign-on portal allows for real-time claims lookup, detailed policy queries, chatting, renewals, and much more.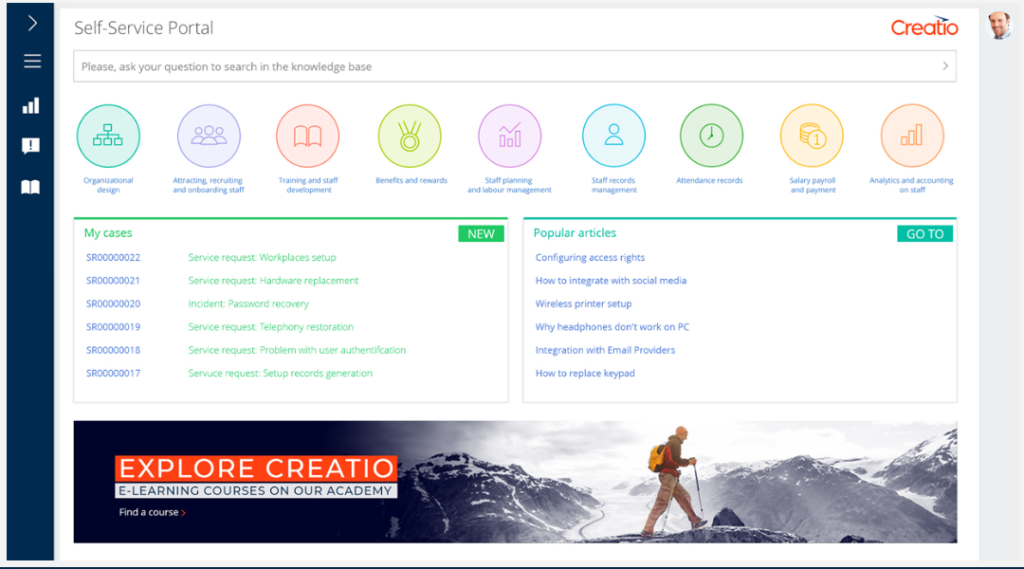 A CRM designed for managing all business relationships, from individual plan members to brokers
We covered some of the features you can turn to when your music channel no longer delivers results with your direct customers, but what about your brokers? In today's fast and competitive market, nurturing broker relationships is key to business growth. They bring business through a variety of channels, and they depend on accurate and timely data to build complex insurance products and deliver proposals to their direct and corporate clients. Creatio figured that broker relations would also benefit from high-engagement features.
The Creatio CRM platform is a one-stop portal where your brokers gather, filter, and download the information they need to sell policies on your behalf. The portal tracks all interactions and transactions, including all policy premiums negotiated by brokers. Brokers nurture their client relationships through the Creatio interface to process payments, claims, and all data queries without disruption. This feature allows for a seamless user experience for brokers and their end users because Creatio made sure to deliver technology that can match each providers' UI platform conventions. The broker's branding can also be customized onto the Creatio platform.
Automating crucial business functions
The Creatio CRM offers manual as well as automated communication functions, such as notifications, ad hoc or scheduled push notifications, content, newsletters, and industry updates, as well as tailored targeted emails. These features enable you to maintain and deepen your relationship with your brokers, based on their status, sales, geography, commission structure, and much more. And be sure to leverage all the platform's transactional data to extract sales trends, marketing strategies, build forecasts and run reports.
Money talks: a new tune for your brokers
By and far, the built-in tracking of fees, payments, and commission is a most popular feature of the Creatio platform. While most analysts and accounting staff dread reconciling commissions, especially when dealing with various incompatible systems, the brokerage fees and agreements are set up in each broker profile, and the commissions are calculated on every transaction, allowing your staff to focus on more meaningful tasks.
And it is known that good habits keep you in good standing. Updated, efficient, and integrated tools give you the right edge in broker management; you can track sales efficiency, commission payments, market trends, ensure they send their direct clients accurate information about your products through various communication channels, and analyze what products work best based on regional, profile, and industry factors.
Empower your teams to reach their full potential
If Creatio's CRM platform can accelerate your business, your teams play a critical role in the success of the implementation. Platform changeovers require a complete buy-in form all parties; to embrace the new environment, work processes, updated job description, and to let go of the old model. Training is paramount to facilitate an early technology adoption rate and the acquisition of substantial support and operational know-how, and overcome resistance and reluctance to change.
Having partners to support the learning curve and to convey a vision of the new reality will help the migration and the cohesion of the new structure. Supporting CRM implementation is what we do, and we thrive on accompanying businesses through technological improvements.
Creatio delivers flexible modular solutions, compatible with the insurance industry standards and file formats. It is without a doubt an attractive option to kickstart your technology transformation. Why not call us today to schedule a free CRM consultation?
LOOKING FOR A TAILORED CRM SOLUTION?
Are you in need of upgrading your current CRM software or migrating to a new one? Look no further than Solutions Metrix. Our team of CRM experts have over a decade of experience in providing platform-agnostic CRM solutions to top banks and financial institutions throughout the United States and Canada.