CRM Solutions: Our Comparative Guide​
Published on mars 24, 2021
Why a CRM is vital for your customer relationship management?
A CRM solution is a database that centralizes, secure and manage the customer relationship-related data. This type of software will help you to structure your activity and increase significantly its performance.
As a sales or marketing manager, you most probably already know a CRM software. Many of them are offering a very wide range of functionalities, from the simplest to the most complex ones. But companies often end up with a maladjusted software. Most of the CRM are customizable almost infinitely, and the range of data that you will be able to follow and measure is very wide. Moreover, it is generally possible to integrate the CRM with other software and popular applications.
The benefits of using a CRM software are plenty: data centralization, better productivity, better priority management, improved alignment of sales and marketing, saving money and improved profitability. You will ease the work of your sales and marketing teams, which will appreciate it, and you will have an immediate impact on the quality of the service you provide to your clients.
Get closer to the needs of your clients thanks to a more efficient relationship, customized conversations, targeted offers, and a better support service.
Last but not least, by centralizing all the data that are related to your customer relationship through your CRM solution, you will avoid being unprepared if one of your sales representatives is leaving the company.
Identifying properly the fields of your lead qualification system is one of the most important phase of the CRM implementation process. Get the help of a CRM integrator in order to increase your chances of success. But while considering it, we will list down the different existing CRM we propose:
– Sugar CRM: it's the first worldwide publisher of Open Source business solutions for customer relationship management. And since our official partnership in 2009, we have completed more than 200 successful implementations. Sugar CRM allows companies to develop and easily integrate your business process, this in order to nurture and develop even more profitable client relationships. Its main assets? Easy implementation and data migration, easy to use, marketing and sales automation, software customization, compatibility with the different Web browsers, and integration with Microsoft Outlook. More information.
– Salesforce: this CRM tool will provide you with what you need, with a Cloud based technology. With a full Web integration, Salesforce integrates easily and with homogeneity to your working tools. We are a Salesforce certified partner since 2011, and our expertise of implementation allows us use native functionality as well as the SFDC ecosystem to facilitate user adoption. Its main assets? Increase of productivity, marketing campaign automation, improve customer service management, and real time data visibility. More information.
– Microsoft Dynamics: enhances and empowers the customer engagement with real time information and collaboration. Solution Metrix is a Microsoft business partner, and as an expert in implementing Microsoft Dynamics across multiple departments, it provides us a 360 degrees vision while integrating with other Microsoft tools. Its main assets? Flexible options for deployment, purchase and access, familiar and easy to use, extensive customization to fit your business, automated salesforce management, native integration with Outlook, Exchange and SharePoint to maximize user adoption. More information.
CRM software grid overview
The best CRM softwares are determined by customer satisfaction (based on user reviews) and scale (based on market share, vendor size, and social impact) and placed into four categories on the grid:
– Leaders are rated highly by users and have substantial scale, market share, and global support and service resources. Leaders include: Microsoft Dynamics 365 for Sales (formerly Dynamics CRM), Salesforce CRM, Sugar CRM, Zoho CRM and HubSpot CRM.
– High performers are highly rated by their users, but have not yet achieved the market share and scale of the leaders. High Performers include: Maximiser CRM, Nimble, Vtiger CRM, Nutshell, Workbooks.com, PipelineDeals, Salesnet, Pipedrive, bpm'online, Prophet CRM, ProsperWorks CRM, Bullhorn CRM and Salesflare.
– Contenders have significant market presence and resources, but have received below average user Satisfaction ratings or have not yet received a sufficient number of reviews to validate the solution. Contenders include: NetSuite CRM, Oracle CRM On Demand, Sage CRM, Infor CRM and SAP CRM.
– Niche solutions do not have the market presence of the leaders. They may have been rated positively on customer satisfaction, but have not yet received enough reviews to validate them. Niche products include: Act!, GoldMine, Unsightly and Contactually.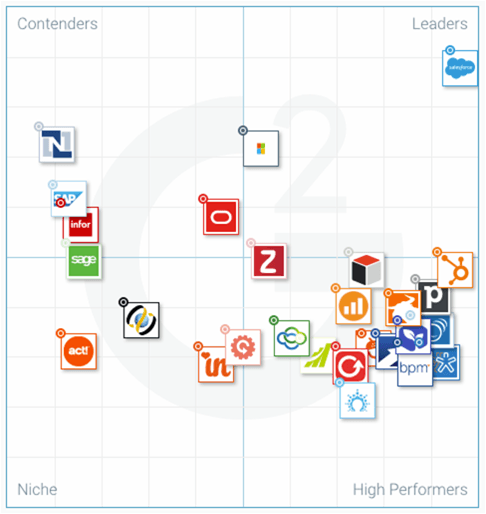 LOOKING FOR A TAILORED CRM SOLUTION?
Are you in need of upgrading your current CRM software or migrating to a new one? Look no further than Solutions Metrix. Our team of CRM experts have over a decade of experience in providing platform-agnostic CRM solutions to top banks and financial institutions throughout the United States and Canada.