Why Creatio is Ideal for Insurance Brokers​
Published on juillet 30, 2020
Bringing the pieces together
Have you ever had to login to your sales systems only to toggle to your marketing database before accessing a client file on your phone? Individually, these systems work pretty well; they do what they're supposed to do. But it's the 360° view that gives you an edge; having the whole picture is the key to making the right decisions, extracting trends, forecasting activities, as well as identifying growth regions and niches.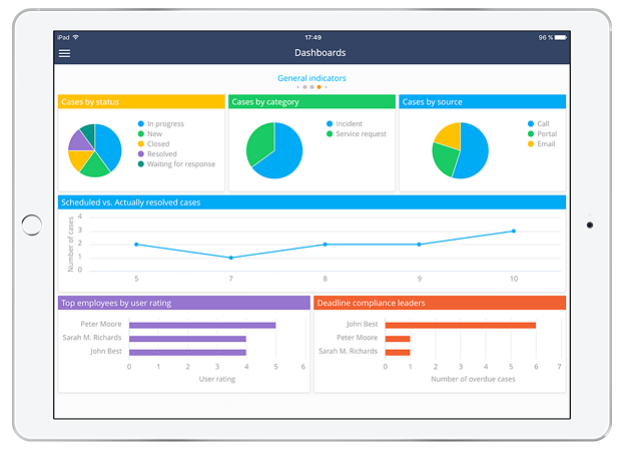 Interconnectivity delivers results
Tapping into that potential is not a frivolous undertaking, as you have to bring together information from various datasets and formats. You may spend (waste?) too much time gathering the information you need to build insurance products, follow up on claims, track cases progress and performance. But what if a few clicks could pull up a complete customer profile? Imagine a platform, designed with the insurance industry in mind, able to leverage existing systems, database formats, collate datasets in a snazzy user dashboard.
Creatio (formerly bpm'online) is an insurance broker's dream technology: it delivers a 360° view of your customer profiles by integrating existing systems formats and outputs in one single platform and interface. It allows for the automation of numerous underwriting and claims management processes to streamline your staff's tasking and boost your sales and marketing initiatives.
What about a comprehensive business platform for insurance brokers?
Acceleration of business processes is at the heart of the Creatio platform. Its multiple modules and features are designed to extract and organize complex data files while the user interface displays the data according to smart sales, analysis and service-driven templates. The platform's core is CSIO C900/C920-compatible, and compliant with the industry's NML5 standard; this design allows you, your sales and operational teams, to load datasets from your providers. You set up the templates to extract pricing, coverage, premiums, costs, and to break down fees and commission profiles. That means that you can collate your providers' info and display it in a comparative, relevant interface to build policies and adequate coverage solutions to meet your clients' needs.
Minding the gap, one process at the time
The optimized management platform proposed by Creatio brings together the various departments and functions of an insurance brokerage firm. Underwriting is often performed independently from sales and customer service, causing a blind spot between the sales, business development, and financial administration functions. The trends, business opportunities and data analysis your brokerage firm depends on to thrive often, if not always, fall in that spot. With a 360° view of the complete insurance life cycle, you can build, market and sell outstanding products and services, and offer best-in-class customer service.
What actual benefits can you expect from a powerful CRM?
This holistic approach to managing your business delivers on many fronts. The technology designed by Creatio also allows for automated and optimized processes. The platform acts as a transactional space between your clients and your underwriters, calculating, tracking premiums and fees, and seamlessly processing payments between the former and the latter. The defined broker profile options allow for the smooth calculation and payment of commission rates, without having to reconcile a single sales agreement. Not too shabby.
How can one tool meet your all of your business needs?
The Creatio modules are designed to be leveraged by multiple user categories. The secure self-service portal delivers a customized user experience based on the categories you define. That means that your direct clients, whether they are individual subscribers or corporate plan members, can access their profile and history; they can renew or update their policies, add features, request calls, file and track claims on their own. Your customer service agents use the agent dashboard of that same platform to provide these clients with current information and process their requests. The platform's omnichannel communication architecture allows for service delivery on a multitude of devices (texts, chats, calls, emails), while keeping all exchanges, communications, and interactions in the profile history.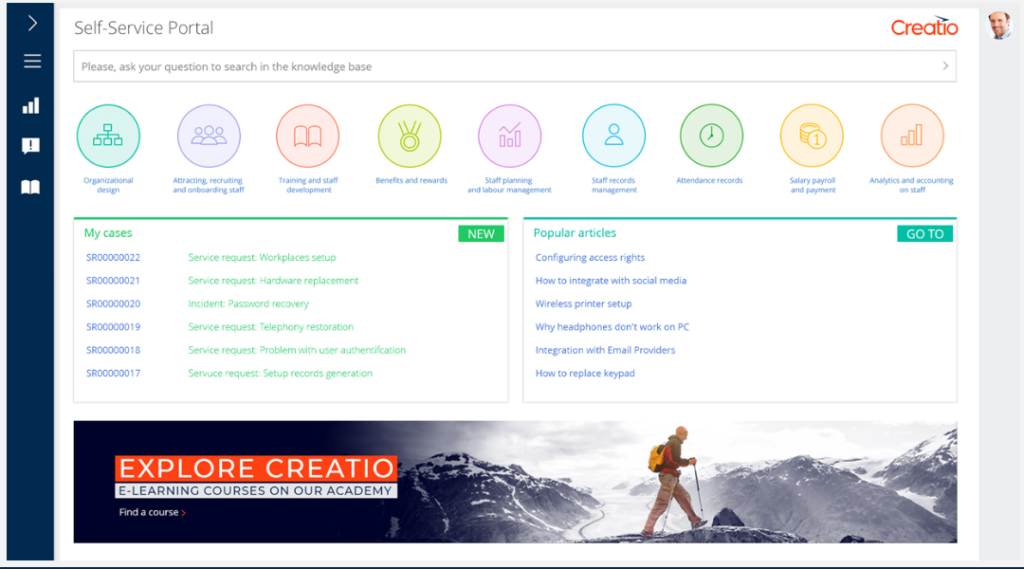 With a CRM, you no longer lose clients
The sales team and account managers leverage the CRM to track customer journeys and to manage leads. With an overview of the full customer life cycle on screen, you can set operational rules to best manage your existing clients, follow-up on leads or schedule calls after deals to assess satisfaction. A best practice is take your lead management and retention processes and set them up in the automation module. The system supports your service and sales force efforts by generating daily lists of tasks, calls, and meetings. Through scheduled and intentional communications, you no longer lose clients. A client may choose to select another broker or provider, but you possess all the data in your system to nurture them back the following year. You know what they value, what they need, and you can organize them within specific groups to target with new and updated marketing and sales messages, updated policy options tailored to meet their needs and context, such as a COVID-19 target group of health practitioners.
Facilitating the administration to maximize sales efforts
The Creatio platform is fast and responsive, and allows you to keep track of everything that truly matters. When challenging what technology can do for your business, you can think of automating and/or improving existing processes, such as simple to complex business processes : lead generation, outbound call queues, contract management, incoming incidents and service requests, as well as company-wide or targeted communications and new product rollouts.
Getting your cold calls a warmer welcome
Take the outbound calls challenges for example. Creatio integrates predictive dialer systems; you can automate outbound calls and configure the queues to match your agent pool and response time to minimize some of the unpleasantness of cold calling. In the event that you leverage uncertified agents in a call center, they can obtain and capture all the necessary information about the potential lead before transferring them over to a certified broker. With complete customer profiles or, in the case of cold calling, with extensive information about your service offering, the first contact is positive, made with a knowledgeable individual and the lead is funneled through a connected and efficient pipeline.
Maximizing compliance with Do Not Call lists
Another valuable feature that Creatio has cooked up for insurance brokers is an extensive management tool for call lists. The native integration of Do Not Call registries makes it an attractive tool for brokers required to abide by government-regulated policies. In Canada, all businesses must comply with the federal Do Not Call list, a list comprised of individuals who have opted out of telemarketing calls. In the US, the Federal Trade Commission enforces the National Do Not Call Registry to protect consumers who wish not to receive telemarketing calls. It is a mandatory practice that Creatio facilitates automatically. The backend system collates and compares the various existing clients, lead lists and purchased lists to the relevant Do Not Call registries to ensure that DNC numbers are tagged as such and not scheduled for calls.
A sales force growth management tool
Using the CRM platform, you can also manage your broker types effectively, whether you choose to create territory alignments, tiered broker pools by sales numbers or active accounts. The various options you can set up in the platform allows you to create broker groups and sub groups in your system, which you can leverage to deliver training, development opportunities, to set sales goals, to feature in communications, to challenge within specific markets, etc. The organizational capabilities within Creatio enable you to build your teams, your districts, your regions according to your business objectives. The same can be done with your customer service and case management teams; you set rules, goals, and response time to ensure that case management and claims processing meets the company's KPIs.
Maximizing upsell and cross sell opportunities
With a comprehensive 360° view of your service catalogs, client profiles, categories, and sales goals, you can now engage your sales force into targeted upsell and cross sell initiatives. Delivering improved insurance product knowledge and a customized experience to your existing subscribers and plan members can lead to better trust and engagement with your teams and your brand, and lead to increased sales results. You can leverage the Creatio dashboards and modules to turn profitable clients into very profitable clients. Because upselling leads to increased Customer Lifetime Value (CLV), the Creatio platform is optimized to facilitate communications and engagement.
Furthermore, you can draw trends and needs from a variety of factors, such as regional sales results, public health or environmental events. Make sure to leverage those factors to roll out smart and relevant cross selling initiatives. Using claims data over time, you can create specific cross selling plans, roll them out and assess results to build better ones yet. That is the power that an integrated CRM gives you; the power of knowledge, the ease of doing, and the tools to execute your vision.
CRM expertise for all industries
Solutions Metrix, a Montreal-based CRM consulting and implementation firm, knows CRM solutions better than anyone. They have built their knowledge by partnering with the leading CRM providers to deliver the right business solution to small, medium, and large organizations. The insurance industry, with its regulations, dynamics, economics, and practices, requires a tool that can meet its needs, facilitate the specific tasks, and track the right data. According to their 200+ CRM implementation projects experience, Solutions Metrix selected Creatio as the preferred insurance industry solution, as it was built with the right specs and requirements in mind.
Creatio, developed in a low-code approach, is customizable, flexible and adapted to the needs of complex businesses. To find out more, join us on July 29th for a CRM-focused webinar to learn how this award-winning process automation platform can optimize your business management and help you deliver an outstanding customer experience. Feel free to explore how you could simplify and accelerate your business with optimized sales processes, automatic commission and premium calculation, and transaction management, as well as client nurturing features.
Contact us today to schedule a free consultation!
LOOKING FOR A TAILORED CRM SOLUTION?
Are you in need of upgrading your current CRM software or migrating to a new one? Look no further than Solutions Metrix. Our team of CRM experts have over a decade of experience in providing platform-agnostic CRM solutions to top banks and financial institutions throughout the United States and Canada.