Make sure to use PowerApps with Microsoft Dynamics CRM
Are you a Dynamics/PowerApps consultant?
Are you using the new maker portal (make.powerapps.com)?
And by using the new maker experience for solutions do you miss the Object Explorer?
Those good days when you had just one window and you were able to navigate through all objects, entities, web resources etc., well let me tell you that we now have the same experience but this time with steroids, we have a new, fresh and improved Solution Explorer on the new experience inside power apps interface, this is something that is on PREVIEW.
What exactly does PREVIEW means?
Well, let me explain this very quick, PREVIEW for Microsoft means that the feature is there for you to sue it but in SANDBOX environments NOT in PRODUCTION environments, also means that this feature is still on the QA phase, we should not be using features that are still in PREVIEW, the only features we can use on a PRODUCTION instance are the one that are marked as GA, which means General Availabilty
But this post is about how to enable it and work with the new Solution Explorer.
The first thing you need to do is to enable it from make.powerapps.com

Click on that option so you can see the solution explorer, after you click it, refresh the page so you can get the explorer next time you click on a solution.
Once you click on a solution the new solution explorer will be on the left side of your screen next to main menu we already know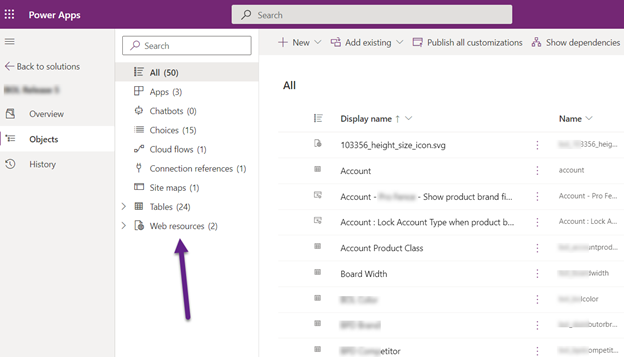 When you enable the Preview for the Solution Explorer feature, you are also enabling the system to show you a new way to add existing objects, this new design groups objects into different sections or classifications so you can easily find things when you want to add them to a solution.
Here is how we add objects when the preview feature is off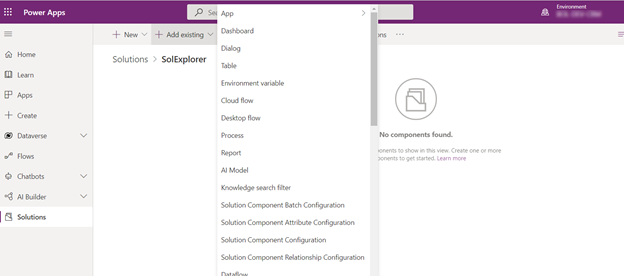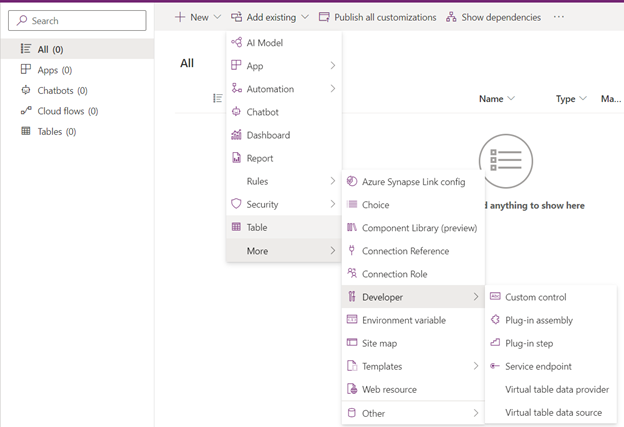 So now that you know how to turn on this feature that helps you to see things more organized what do you think? Is Microsoft doing a good job migrating and improving the old solution explorer?
Remember you can share your ideas on how Microsoft can improve the user experience with real stories using this link Ideas (dynamics.com)
Leave us a comment of what you think.